The take-off
October 2020, I asked my boss, if it is okay to stay for the rest of the year on the Canary Islands to work from there. "As long as you are reachable and deliver the same quality of work, I don't care where you open your laptop in the morning!", he said. Two weeks later I had my flight to Las Palmas de Gran Canaria and I am still thankful I made that decision.
In November 2020 the so called "Soft Lockdown" started in Germany. Everyone was expecting it to end in December and have a normal Christmas time, but it lasted a little while longer. Here on the Canary Islands the regulations were strict, too. But you were always able to go out, visit a restaurant and do sport. The seven-day-incidence were never over 100 due the whole wintertime and even with some mild restrictions, life on the canaries was good.
So let me share one day of my life as a Remotical to show you what it means to work remotely from Gran Canaria.
The morning
7 am, I just turned off the alarm on my phone. I stand up, open the door to the balcony and let some fresh winter air come in. It is the beginning of December here on Gran Canaria and it is about 18 degrees outside. I go back inside, open my work laptop to check on my mails and schedule for the day. There are 45 minutes left before my first meeting starts, 9 am in Germany, 8 am on Canary Islands. I take my shorts and a pullover to find my way down to Las Canteras, the big beach promenade in Las Palmas, to grab a café leché y leché and a croissant. The waves are looking nice today and on the very left-hand side of the beach I see the first surfers catching some of them. After a short walk I find my way back home to join my first meeting of the day.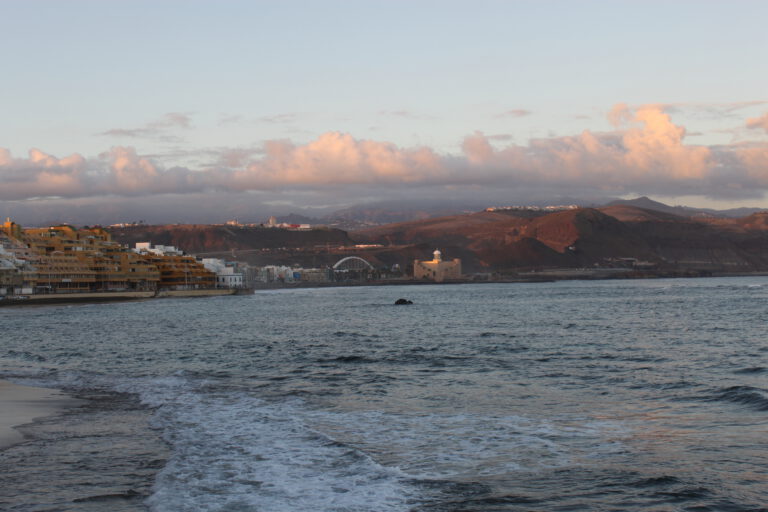 The afternoon
The morning turned out to be quite busy with work and calls, but after the main work being done, I call my girlfriend to meet her for lunch. We decide to go for a small restaurant near the beach. The sun is warming up the city quite a bit, so we decided to sit in the shadow and get some refreshing drinks to our wraps. Just around the corner we hear the waves breaking. Gabriela joins me after lunch for a quick walk on the beach before we are heading back home for the afternoon. She is studying next door and I join my next call, a status meeting for the project I am working on.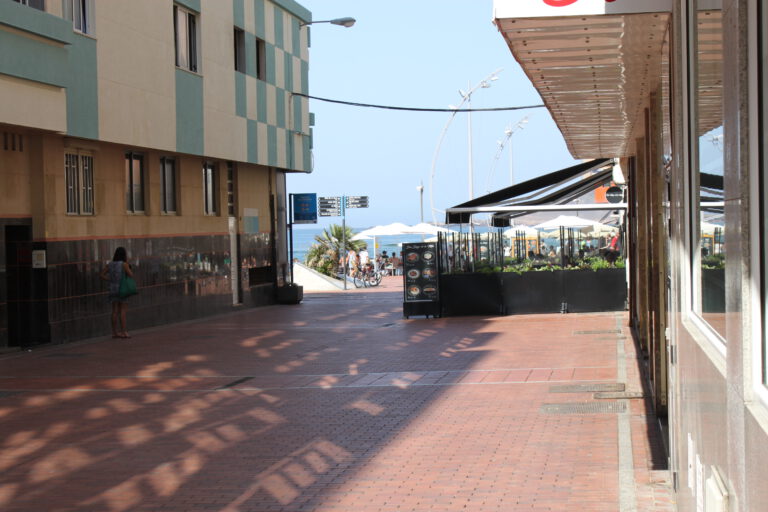 After work 
Around 4 pm I am about to finish my work for the day. First thing now for me is to check the wind forecast for Pozo Izquierdo, the famous windsurf spot to go for an evening session. Gabriela joins me and is studying at the beach view restaurant while I am on the water. The conditions are amazing. Sun, 25-30 knots of wind and a small swell of 1.5m. After a good hour on the water, I join Gabriela at the restaurant to have dinner and a drink with a beautiful ocean view. The way back up to Las Palmas takes around 30 minutes on the highway and leads us straight back home. We let the evening end with a last drink on the balcony, it is still nice and warm outside.
Experience it yourself
There are many ways to spend your free time around here on the island. The island is incredibly divers, there is a lot of places to explore and activities to do that makes you enjoy every day of life. So even if northern Europe is getting struck by another covid wave, here you find the freedom to plan and enjoy your everyday life in the way you like. So why not come with us and skip a cold and rainy winter, get some sun and freedom here in paradise.
Read & share
If you interested in real life stories of people already working remotely, check out our interviews and our story blogs, where we give updates on recent events, typical days of Remoticals or other remote working topics.
Get in touch 
Feel free to write us your story or experience of remote working at Facebook or Instagram. We are always keen to learn how other people handle their remote work.